FBL3N in SAP: A Report to Display the GL Balances
Based on the previous tutorials, now you have an idea on how to post a journal entry in SAP. A journal entry can be a normal GL posting or it can also have sub-ledger postings (Customers or Vendors). To display the report for GL balances only, you can use FBL3N in SAP.

As you know that SAP stores all the transaction data in the database tables. It also provides us with the standard reports to display the data. In addition, SAP provides separate reports for each transaction type.

For example, to display the GL balances, FBL3N or FBL3H is widely used. There are some less common GL reports like FAGLL03 which also provides data related to GL Balances at profit center level (which is missing in FBL3N). Similarly, you can use standard reports FBL1N in SAP and FBL5N in SAP to display Vendor and Customer balances respectively.
FBL3N in SAP: Display GL Balances
Like I mentioned above, FBL3N in SAP is used only to display GL balances and it will not display balances related to customers, vendors, or even fixed assets. Therefore, once you post an accounting entry to GL accounts in SAP, you can either display the balances for each GL account individually or all GL accounts for company code in FBL3N.
FBL3N Features
Display Line Item Details for GL Accounts
Reporting on one or more GL Accounts
Flexibility in the Selection Screen
Customized Reporting Layouts
---
FBL3N: GL Account Selection
The Selection screen of FBL3N is fairly simple in SAP FI. At the top, you have an option to select a GL account and a company code. Please note that it is mandatory to select at least one company code to generate the report. You can leave the GL account field as blank in case you want to display the balances for all the GL accounts.

Also, if you want to see balances only for specific GL accounts, then you can fill all the GL account codes in the 'G/L Account' field using the 'Multiple Selection' button highlighted in the screenshot below.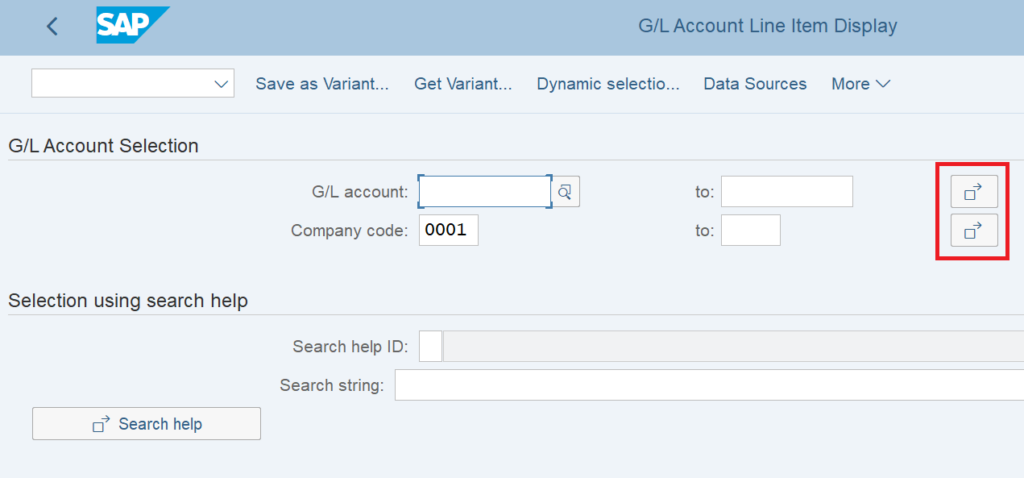 Multiple Selection Feature
There are multiple selection parameters in the 'Multiple Selection' buttons. You can input a specific list of GL accounts in the Select Single Values tab. Similarly, you can also provide a range of GL Accounts in the Select Ranges tab.

For example, if you want to display the balances of all the Expense accounts. In SAP, you create a separate GL account group for each type of GL account and you also assign a number range to it. Let's say all of the expense accounts have a GL account number range from 600000 to 699999. You can specify this range and execute the report to display the balances for the GL accounts falling in this range only.

Also, you have an option to exclude the list or range of GL Accounts. This can be used when you want to exclude certain GL Accounts from the report.
FBL3N: Line Item Selection
In the Line Item Selection, there are 3 options available, i.e., Open items, Cleared Items, and All Items. As you know that some of the balance sheet GL accounts like GR/IR Clearing, Incoming/Outgoing Bank GL Accounts, or Accounts Receivable and Accounts Payable GL Accounts are open-item managed.

An Open Items radio button is to display the balances for only GL Accounts that are open-item managed. Similarly, a Cleared Items radio button will display only those records which have been cleared in the system. An All Items radio button will allow you to display the balances of all the GL Accounts irrespective of whether it's open-item managed or not.

In this selection, the system will display both the Open and Cleared items for open-item managed GL accounts and all the line items of non-open item managed GL accounts.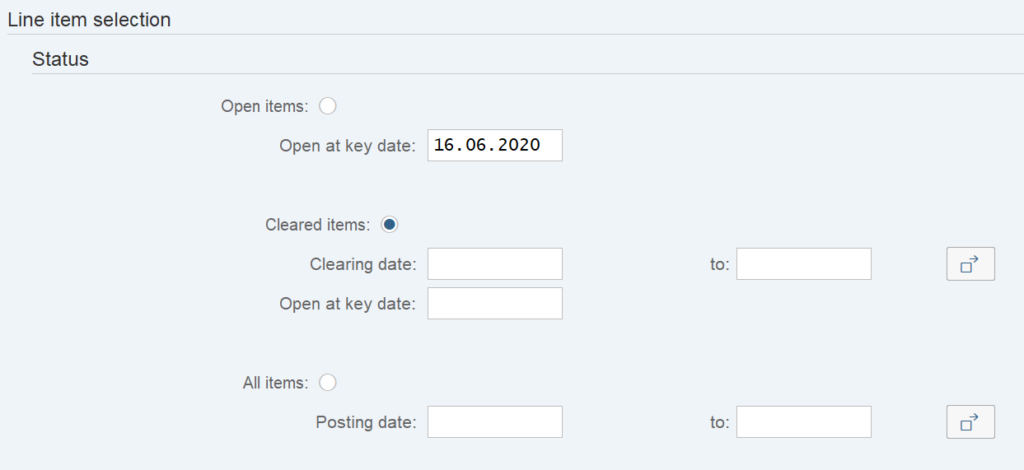 FBL3N: Type of Records
In this selection, again there are 3 options available, i.e., Normal Items, Noted Items, and Parked Items. A normal item means all the transactions that have already been posted to a GL Account. A noted item does not have an impact on accounting but is like a notice that reminds you of actions to be taken in the future.

Similarly, a Parked item means that a document has been saved or stored in the system but not yet posted to a GL Account. These kinds of entries are used to get further approvals before posting can be made to a GL account.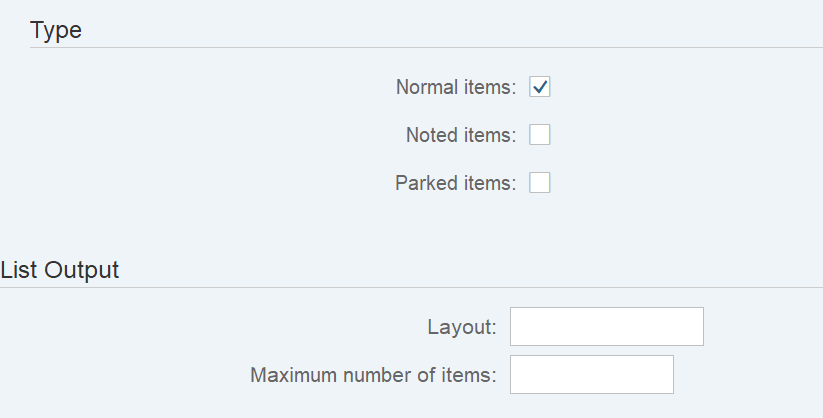 FBL3N: Dynamic Selection
There is also an option of 'Dynamic Selections' at the top of the screen which allows you to add more fields in the selection screen. For example, you can add the fiscal year from the dynamic selections and provide value in the fiscal year field to display only those records that have been posted in that fiscal year.

Moreover, Not just fiscal year, there are many other options like document number, Reference, Currency, etc. A Dynamic Selections option comes handy when there is a specific requirement for reporting. In conclusion, it allows you to make a selection at a more granular level.

Execute Report
To execute the GL balances report, enter all the selection parameters. For example, I need to display balances for a particular GL account for a company code 0001. I have added both the GL account and company code in the GL Account Selection screen.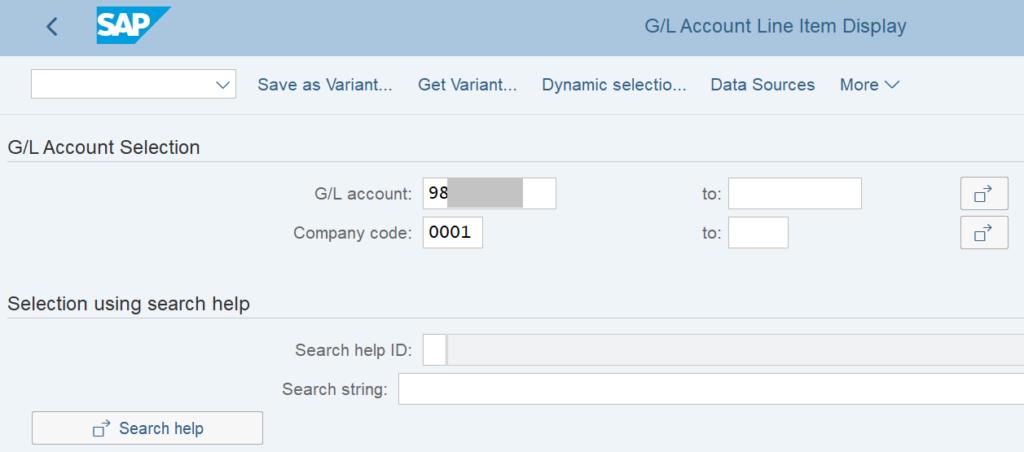 Also, I have selected the All Items option in the Line Item Selection to display all the open as well as the cleared balances.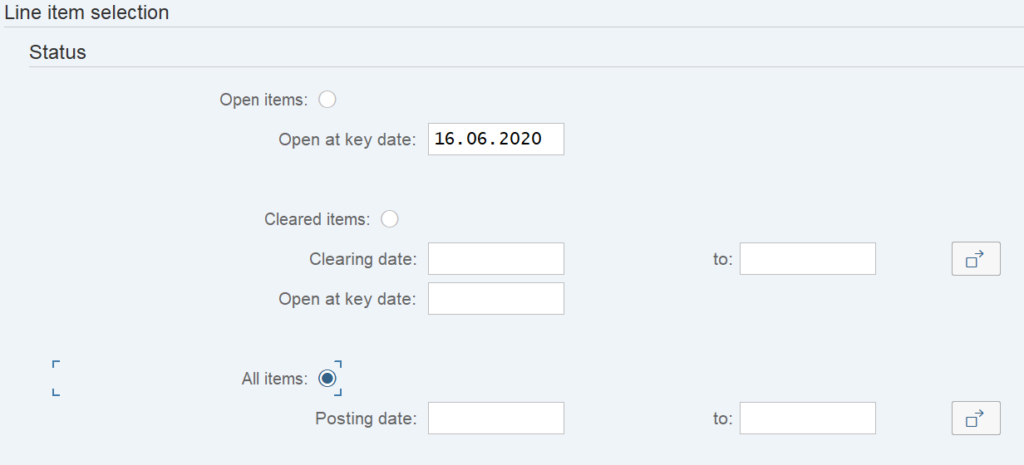 After that, click on the Execute button to generate the report. The first column named 'Status' shows a red or green indicator. A red indicator means it's still an open item, i.e., the total outstanding amount.

A green indicator means all the line items are cleared items. In other words, this layout will display all the GL balances in one go. In the final report, you can add more fields by creating a variant. Moreover, you can also save the variant for further use in the future.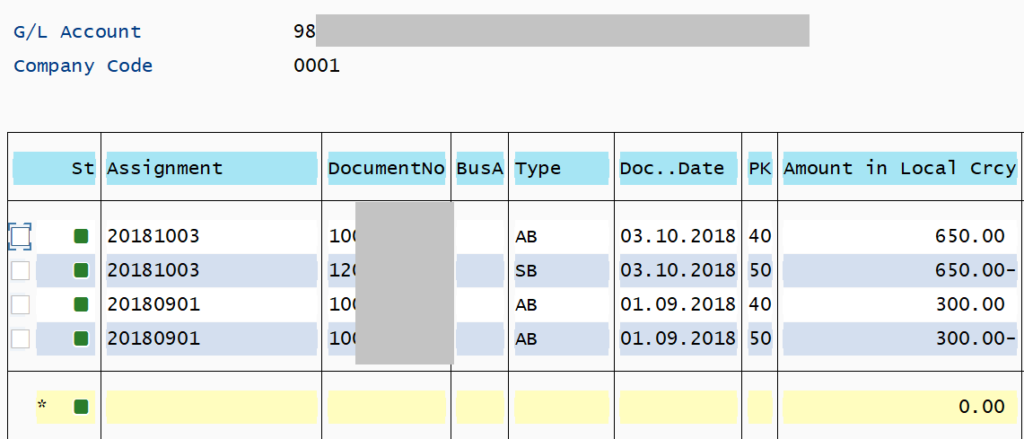 GL Balances Report: FAQ
How to display the GL balances in SAP?

Execute the GL balances report in SAP by using tcode FBL3N. Enter the GL account or range of GL accounts and company code. After that, select the selection parameters and execute to display the report.

What is the difference between FBL3N and FAGLL03?

FBL3N displays the entry view of the customer documents whereas FAGLL03 displays the GL view of the customer documents. FAGLL03 displays additional data like Profit Center, etc.

What is the difference between FS10N and FBL3N?

FS10N displays the balances with further drill-down of accounting documents. Basically, if you want to see more data for a particular document, then you can double click on it to see the additional data. On the other hand, FBL3N does not have this functionality.
I hope you liked this tutorial and have learned something new. Above all, please share this article with others and stay tuned. I will be posting the tutorials on the FBL1N and FBL5N reports soon.