FBV0 Tcode in SAP: How to Post a Parked Document?
Hi, this is my 1st post of the year 2021 and I wish all my readers a very happy new year! In my last post, I explained the process of parking a vendor invoice. And, I also promised to bring a tutorial on how to post a parked document. So here it is, today I will show you how you can post a parked document using FBV0 tcode in SAP.

As you already know that a parked document is not an accounting document until posted to financial accounting. In my previous tutorial, I parked one vendor invoice using tcode FV60. The document number generated in FV60 is 1900000180. If you try to open this document in FB03, you will get an error that 'It is not an accounting document'. To open this document number in FB03, you need to first post it to financial accounting. This is only possible via FBV0 tcode in SAP.

The only requirement before executing this transaction is that you should already have a parking document number available with you. If you want to park a GL document only, then you can make use of the FV50 tcode. Similarly, for parking a customer and a vendor invoice, you can use transaction codes FV70 and FV60 respectively. So for parking every type of transaction, you have a separate transaction code.

I have already shown you the process of parking vendor invoices using FV60. You can also follow the same tutorial and try to park a customer invoice. The only change is you have to use a different tcode FV70 this time. In a nutshell, you should have already posted at least one parking document before you execute the FBV0 tcode in SAP.

Step 1: Park any document in SAP
Like I said, this is the pre-requisite for FBV0. And, I will take an example of vendor invoice parking. In my last tutorial, I had already parked one vendor invoice with document number 1900000180.

It is a normal 2 line-item document with one line item for vendor and the other line item for an expense GL account.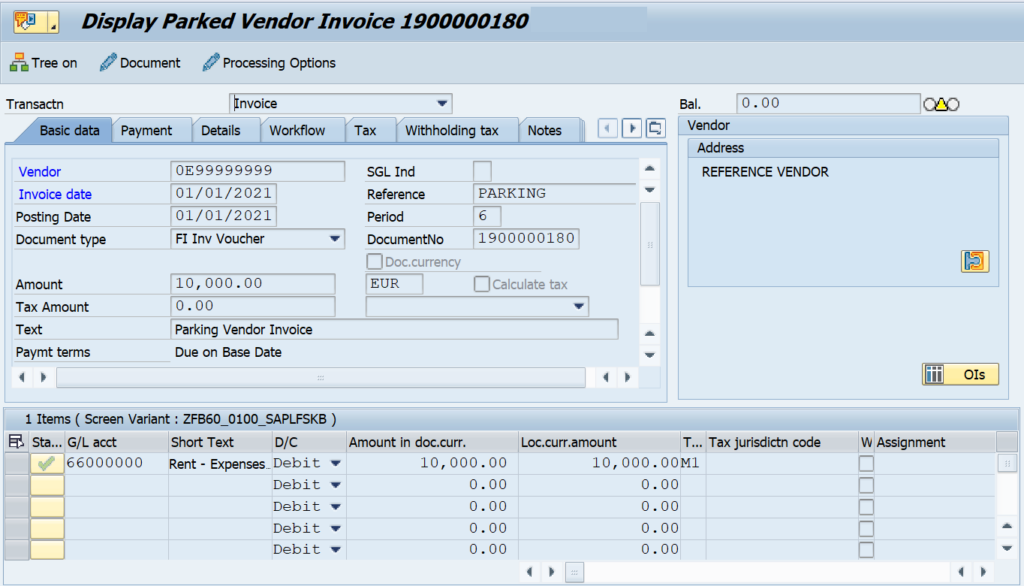 Step 2: Execute FBV0 Tcode in SAP
The next step is to execute the FBV0 tcode in SAP. This will allow you to display existing parked documents and then post them to accounting. As soon as you execute this transaction, you will see some input fields on the initial screen. If you already know the parked document number, company code, and fiscal year, then you can enter these details on the initial screen and proceed further.

In case, you are not aware of the document number, then you can click on the Document List button to display all the existing parked documents.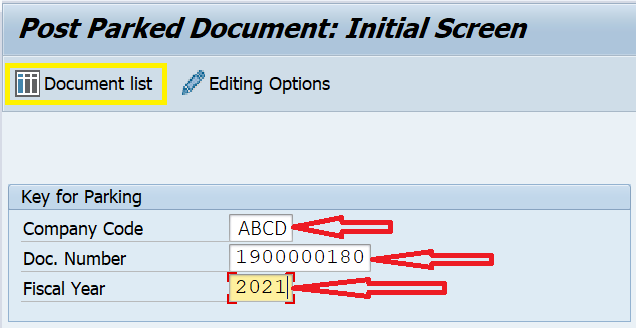 Step 3: Click on the Document List Button
This is an optional step. If you don't know the parked document number, only then you should follow this step. Click on the Document List button at the top to bring the input screen for existing documents.

Here, you need to specify certain parameters. For example, the company code, and fiscal year. You can also enter other parameters like posting date (the date on which document was parked), reference number, the username (who parked the document). These fields will filter out only the required documents.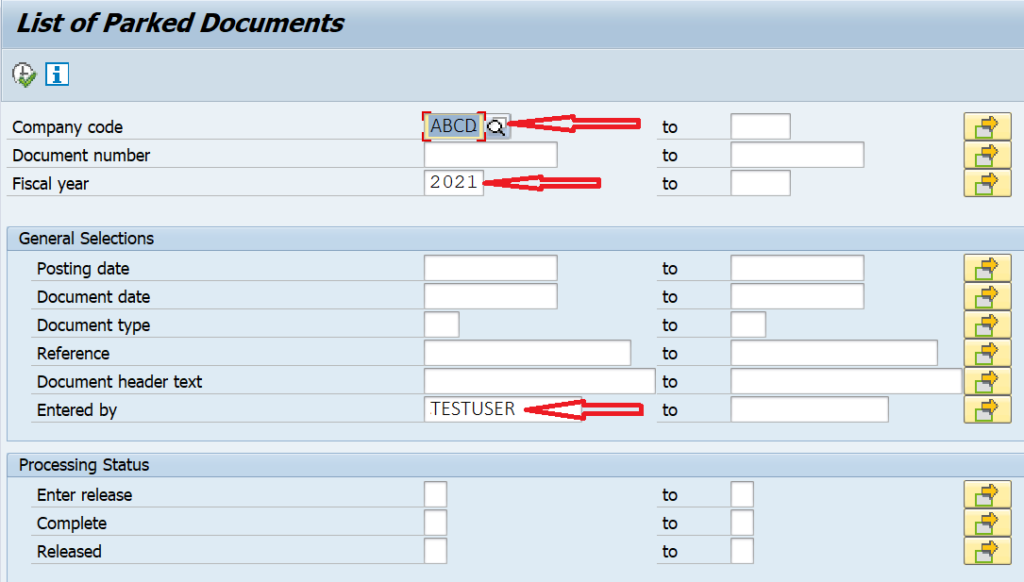 After entering all the details, click on the Execute button to display the list of parked documents. In the screenshot given below, you can see that the system is showing the document number 1900000180 for vendor invoice parking. I will take this document for further posting to financial accounting.

Step 4: Post the Parked Document using FBV0 tcode in SAP
The last step in this tutorial is to post the parked document. Double-click on the document number that you want to post to accounting and it will show you the details of the document. If you remember, we prepared this document while executing FV60.

You can cross-verify or validate all the fields and data before posting. This is the time when you will be able to make any changes to the document. So, if in case you want to change something, then you can make those changes before posting the document.

Once validation is done, you can post the document by clicking on the 'POST' button at the top.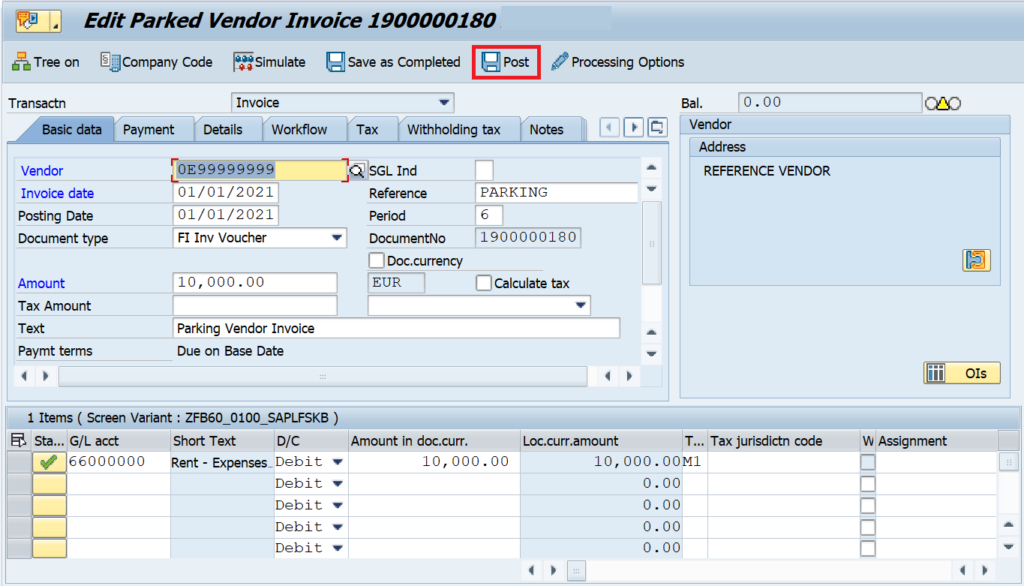 This time you will receive a pop-up message that 'Document was posted in company code'. It means that you have successfully posted the parked document.

Optional Step: Display the document in FB03
Since you have already posted the parked document, this document becomes an accounting document and thus can be viewed in FB03. Enter the document number, company code, and fiscal year. Press Enter to display the accounting document.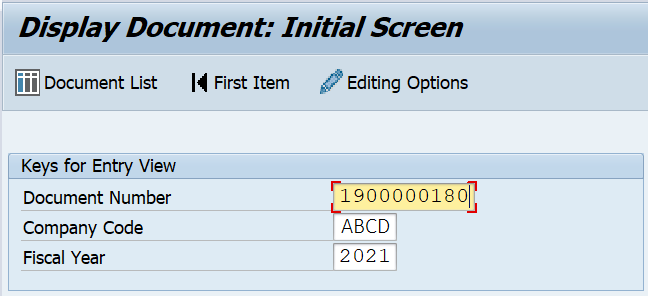 If you have followed this tutorial till the end, then I'm sure you won't face any major issues. Thanks for supporting me and keep following this blog for more detailed tutorials!